The Dementia Planning Group (DPG) provides a forum where partners from the statutory and voluntary sector come together to discuss and address issues affecting people with dementia and their carers.
This year the DPG, with support from the Alzheimer's Society has created a Service User Representation Panel to ensure people with dementia have a voice at the dementia planning group.
Department of Health projections provide an estimate of the number of people in South Gloucestershire who have dementia. A target is set to diagnose at least two thirds (67%) of them. South Gloucestershire is currently at 60% diagnosis rate.
During the year we have developed a three year action plan to ensure we deliver the aspirations included in the Dementia Strategy:
We have three dementia advisors, a dementia nurse and two dementia support workers from the Alzheimer's Society who are the named contact for people with dementia, providing support and signposting to people with dementia and their carers.
The Dementia Action Alliance covers the whole of South Gloucestershire and is supported by a community engagement worker from Southern Brooks Partnership.
Regular Living Well with Dementia roadshows have become an embedded way of engaging with people who are newly diagnosed with dementia and their families, taking place within their communities. This years' roadshows will take place in Hanham and Filton.
We have a number of memory cafes across South Gloucestershire: Charfield, Emersons Green, Hanham, Patchway, Thornbury, Filton, Winterbourne and Yate.
To support carers of people with dementia who are experiencing difficulties in their caring role we have developed and deliver 'Real Life with Dementia' – Hints and Tips for Carers providing, education, training and support for carers. These practical monthly sessions give information and practical advice for better managing 'Real Life with Dementia' now and in the future.
Work continues to develop alternatives to hospital placements and to reduce admissions into care homes.
The council's website continues to be a source of information to support people with dementia and their carers.
Safe Places (previously Safe Havens) is a scheme that means adults with dementia, a learning difficulty or vulnerable people can get help when they are out and about.
A Safe Place is somewhere that a vulnerable person or a person with learning difficulties can call into if anything goes wrong or they are worried. The scheme was previously known as Safe Havens.
In South Gloucestershire the council work with the police to support places such as:
libraries
shops
community centres
leisure and sports centres
to become a Safe Place.
How to spot a Safe Place
A Safe Place will display this sticker, usually on a door or window.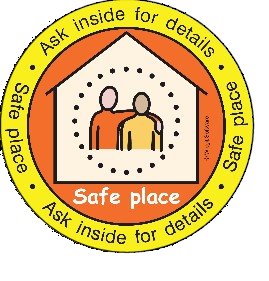 You can see a list of Safe Places in South Gloucestershire at http://www.southglos.gov.uk/documents/List%20of%20Safe%20Places.pdf